Introducing the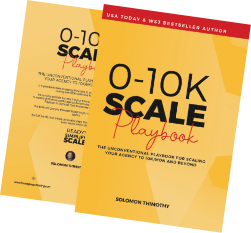 UNLEASH YOUR AGENCY'S POTENTIAL!
NOW AVAILABLE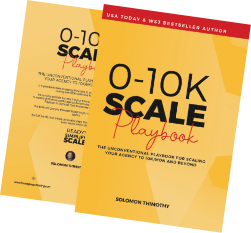 Unlock extra value! Remember to send your receipt to sales@clickx.io to claim all the incredible bonuses awaiting you!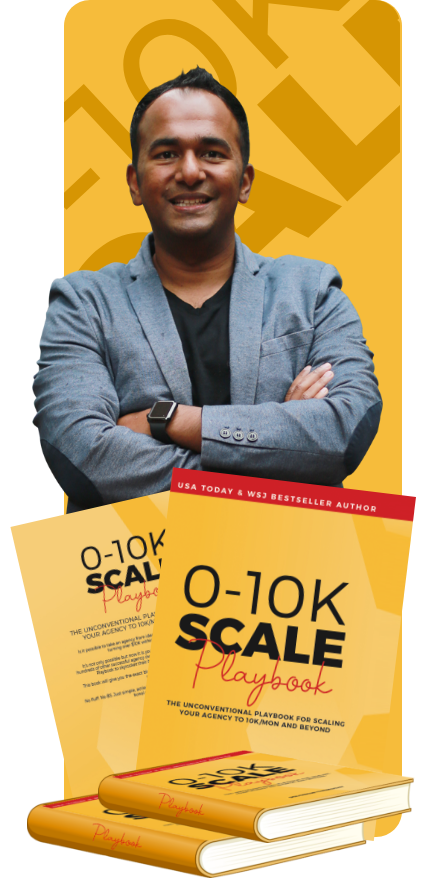 From the Desk of: Solomon Thimothy
Dear Aspiring Million Dollar Agency Owner,
I've got an image for you – imagine you, stacking up the bills, living life exactly on your terms. Got that visual? Awesome. Now let me break it down for you – the agency game is your golden ticket to that vision.
Let me ask you this, is it possible to take an agency from idea to startup to scale and have it generating over 10K within the first month? Not only is it possible, but it's also your turn to follow in the footsteps of countless successful agency owners who've paved the way using the 0-10K SCALE playbook.
This isn't just another book; this is your roadmap to constructing a dynamic agency powerhouse. We're cutting the fluff, ditching the BS, and diving straight into actionable steps. Why? Because I've not only walked this journey myself but also guided numerous other agency owners to craft their thriving organizations.
If you're ready to fast-track your agency dreams, this book holds the exact blueprint you're looking for. No complications, no vague theories – just a clear roadmap to success.
The agency world is calling, and it's time for you to answer.
To the incredible journey ahead,
Solomon
But wait, there's more! 🎉 Get ready for an exclusive launch-day offer that's impossible to resist – not only will you grab your copy of the playbook for just 99¢, but you'll also receive over $5,250 in bonuses that will revolutionize your agency's growth journey.
Exclusive LIVE Training 💻
Masterclass Invitation
Join a LIVE masterclass where you'll gain insights into the very strategies our top partners are using right now. This training alone holds a value worth $2,500 and is available exclusively when you grab this book. In addition to that, you will also get the following bonuses.
Bonus #1 🎁
Access to Clickx Platform for Fulfillment - PRICELESS
Imagine having the power to access a platform that makes fulfillment a breeze. As a playbook owner, you gain lifetime access to the Clickx Platform, where you can effortlessly procure top-tier fulfillment services. Whether it's Facebook ads, Google ads, or SEO, this platform is your gateway to excellence. The value? Priceless.


Bonus #2 🎁
Hour of Sales - Elevator Pitch Training
They say the first impression is everything – and your elevator pitch is your agency's ultimate introduction. Spend an hour with Solomon, honing your pitch to perfection. Learn how to craft compelling, concise pitches that grab your prospects' attention and seal the deal. Valued at $1,500, this training is your ticket to mastering the art of persuasion.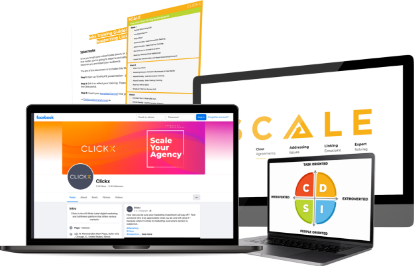 Bonus #3 🎁 30+
Agency Growth Hacks
Discover Solomon's arsenal of growth hacks that he's personally used to skyrocket his agency's success. Uncover 30+ actionable strategies that can supercharge your agency's growth journey, valued at $1,000. These hacks are tried, tested, and proven – the keys to unlocking exponential growth.
Bonus #4 🎁
100 Leads in Any Niche with Emails
Leads are the lifeblood of any agency, and we're handing you a treasure trove of 100 high-quality leads in any niche of your choice. Whether it's roofing, healthcare, construction, or any other industry, these leads come complete with emails and social media profiles, ready for you to convert into clients. Valued at a minimum of $250, this bonus is a game-changer.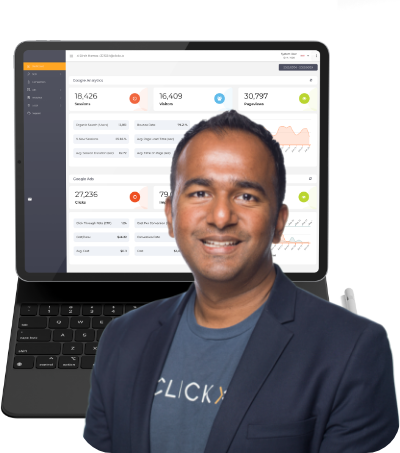 Bonus #5 🎁 Million Dollar Offers
(Live Offer Creation)
Ever wondered how to create irresistible offers that close deals like clockwork? Dive into the Million Dollar Offers training, where you'll witness Solomon in action during live offer creation coaching sessions. Witness the magic unfold as he crafts high-converting offers on the spot. The value of this experience? A whopping $2,500!
🎉 Total Value: $5,250 🎉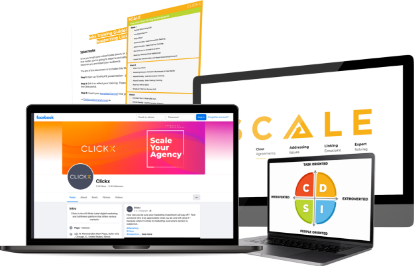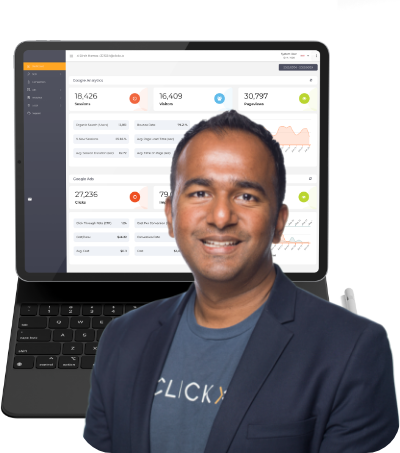 P.S. Remember, these incredible bonuses are exclusively available on launch day. Act now to secure your copy and grab these valuable resources that can supercharge your agency's growth. Keep in mind that if you miss the launch day, these bonuses might not be up for grabs. Seize this opportunity while you can!
P.P.S. But wait, there's more! We're not stopping at just these amazing bonuses. When you grab your copy on launch day and provide us with your information, get ready for some extra surprises. We'll be sending you special opportunities and resources that will give you an edge in scaling your agency. Don't miss out – you're on the brink of a whole new level of success!
What are you waiting for? Click the button below and enter your information, so we can keep you in the loop as we approach the big launch day.
Clickx is a comprehensive digital marketing agency platform that specializes in assisting agencies with scaling their operations. Our software, training, and coaching services are tailored to support agency growth and enhance their online presence. Any references to other brands or companies are provided for illustrative purposes only and do not constitute an endorsement or claim of guaranteed financial outcomes. Testimonials and examples shared are intended for educational and illustrative purposes, and individual results may vary based on factors including your agency's efforts, strategies, and market conditions. We advise exercising due diligence, seeking professional advice, and making informed decisions that align with your agency's objectives. Our services and offerings are designed to support agencies in their journey of scaling and success without making specific income claims.
📚 Ready to uncover secrets it took me 17 years to learn? 🚀
If you're hungry to supercharge your agency's success, my Zero to 10K Scale Playbook is your compass to achieving that and beyond. Crafted through my journey, this playbook is a goldmine of unorthodox strategies that have catapulted numerous agencies into uncharted heights.🌟 Here's the scoop: Your agency isn't just a venture – it's a vessel of potential. This playbook isn't just a read – it's a masterclass in scaling from ground zero to a commanding 10K/month and beyond. Ready to write your agency's success story?
FREQUENTLY ASKED QUESTIONS
When is the "0-10K SCALE Playbook" launching?
How can I purchase the book?
What are the bonuses included with the book?
How do I claim the bonuses?
Can I purchase the book outside of Amazon?
Are there any additional costs for the bonuses?
Can I purchase the book from outside the United States?
How do I access the Clickx Platform for Fulfillment?
Is the Clickx Platform a subscription service?
Can I purchase the book and bonuses as a gift for someone else?
3301 Bonita Beach Rd SW. Suite 100. Bonita Springs, FL 34134. Sales 888-909-7265
© 2023 Clickx – Momentum Workshop. All Rights Reserved.